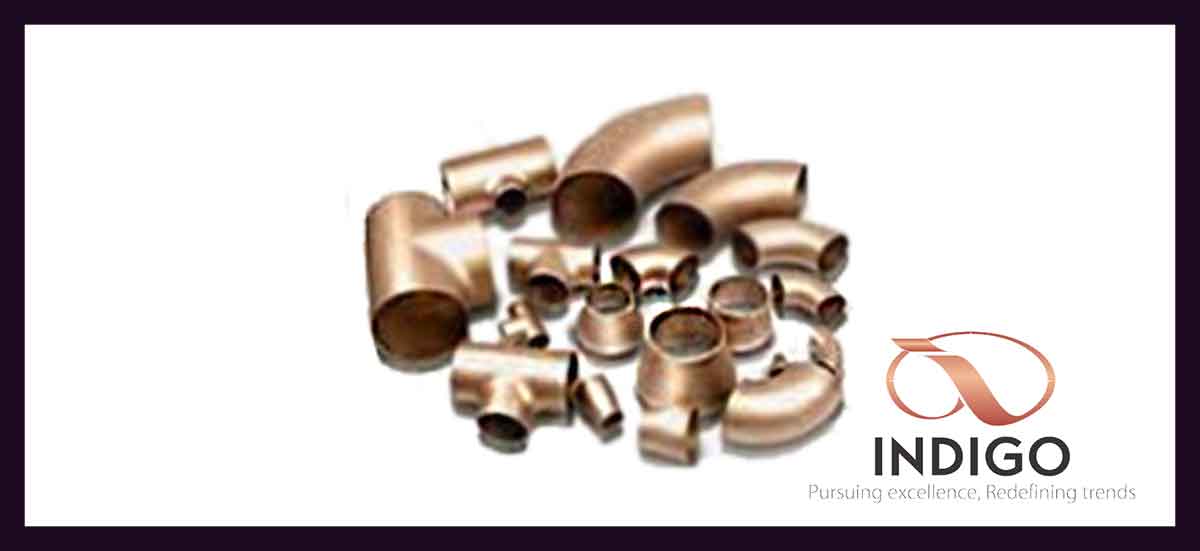 We specialize in offering Cupro Nickel Pipe Fittings in different dimensions and technical specifications.
These are fabricated using innovative technology, top class raw material and efficient machines.
Our flawless range is precisely engineered thus comply with the industrial norms and standards.
Being durable and reliable, these forged pipe fittings are widely used in different industrial application.
COPPER NICKEL BUTT WELD PIPE FITTINGS
RANGE
1/2" NB TO 06"NB IN SCH
10s,40s and 80s
TYPE
SEAMLESS / WELDED / FABRICATED
FORM
Elbows in Long & Short Radius in 45 deg, 90 deg, 180 deg.
Equal, Unequal Tee
Bend
Eccentric Reducer & Concentric Reducer.
Caps & Crosses.
Long & Short Stub End.
Swage Nipple & Barrel Nipple.
COPPER NICKEL FORGED PIPE FITTINGS
| | |
| --- | --- |
| RANGE | ¼" NB to 4" NB |
| OUTLET'S | ¼" to 6" |
| TYPE | Socket Weld (S/W) & Screwed (SCRD) |
| FORM | Elbow 45 deg & 90 degree, Tee , Union, Full & Half coupling, Cross, Cap, Swage Nipple, Plug, Bush |
| OUTLET'S | Weldolet, Sockolet, Elbowlet, Thredolet, Nipolet, Letrolet, Swepolet |
| OTHER FORM | Hydraulic Fittings and Instrumentation Fittings |
Copper-Nickel Pipe Fitting Description:
| | |
| --- | --- |
| STANDARD | ASTM / ASME SB 61/ 62 / 151 / 152 |
| GRADE | UNS No. C70600(Cu-Ni- 90/10), C71500(Cu-Ni- 70 / 30) |
Indigo Metalloys maintains a broad inventory of Copper Nickel C70600 (90/10) and C71500 (70/30) fittings. These copper nickel alloys prove to have very good resistance to seawater, brine water, organic compounds, neutral and alkaline salts, diluted non-oxidizing acids, and more. The copper nickel alloys are most commonly used in seawater environments because of the anti-fouling. Copper nickel creates a thin tenacious protective film formation, which eliminates any marine life to adhere to the pipe walls. Observations in velocity tests over a number of years indicates that the surface profile of copper nickel tended to become smoother rather than rougher at velocities where metal loss reached measurable amounts.
Condensers
Seawater Piping
Power plants
Exchange Shells
Indigo Metalloys can provide also provide copper nickel pipe, fittings, flange requirements, and assist you with additional technical data of joining copper nickel piping systems. Along with our pipe, fittings, and flanges; we also inventory sheet, plate, and round rod for fabrication. Please contact one of our experts today to find out how we can help meet your copper nickel needs.
| | |
| --- | --- |
| List of standard Size for C70600 | List of Standard Size for C71500 |
| Class 200, SCH 40, SCH 80, Butt-Weld Fittings | SCH 80 Butt-Weld Fittings |
| Threaded & Socket-Weld Fittings, 3000#/6000# | Threaded & Socket-Weld Fittings, 3000#/6000# |
| C96200 400# Socket Weld Fittings | C96400 400# Socket-Weld Fittings |
Detailed Product Description
FITTINGS FOR MARINE APPLICATIONS AND FOR THE OFFSHORE INDUSTRIES/PROJECTS

EEMUA 146 UNS 7060X/BS2871 / BS2875 CN 102/ASTM B466 / 171 C70600 DIN 86088 / DIN 86089 / DIN 86090 / 28011 CuNi10Fe 51.6Mn/BS EN 12449 / BS EN 1652 CW352H

EEMUA 146 UNS 7060X/ASME B16.9/DIN 86088 / DIN 86089 / DIN 86090 / 28011

BUTT WELDING (B/W), SOCKET WELDING (S/W), CAPILLARY (S/B)

10BAR, 14BAR, 16BAR, 20BAR

FROM 2 INCH ~ UPTO 28INCH

45D ELBOW / 90D ELBOW
EQUAL TEE / UNEQUAL TEE
CONCENTRIC REDUCER / ECCENTRIC REDUCER
CAP
Materials

Applied Code

Cu-Ni 90/10

EEMUA 7060X
ASTM B466, B467 C70600
BS 2871, 2872,2875 CN102
DIN17664(CuNi10Fe1Mn)
JIS H3300 C7060

Cu-Ni 70/30

ASTM B466, B467 C71500
BS 2871,2872,2875 CN107
DIN17664(CuNi30Mn1Fe)
JIS H3300 C7150

Dimension

DIN 86011,86087,86088, DIN 86089,86090
BS1640
ASME B16.9,B16.28
JMS 7354

Materials

Applied Code

Cu-Ni 90/10

EEMUA 7060X, Din CuNi10Fe1Mn,
ASTM B151 C70600, JIS H3300 C7060,
BS 2872 CN102

Cu-Ni 70/10

ASTM B151 C71500, Din CuNi30Mn1Fe,
BS 2872 CN107, JIS H3300 C7150